CSR Materiality
Under the Toyoda Precepts (corporate creed), Toyota Industries has been undertaking a broad range of businesses by upholding the philosophy of contributing to society since its founding. In keeping with recent changes in the business environment, we have clarified which social issues we should tackle as our CSR material issues, and will work for the resolution of these issues.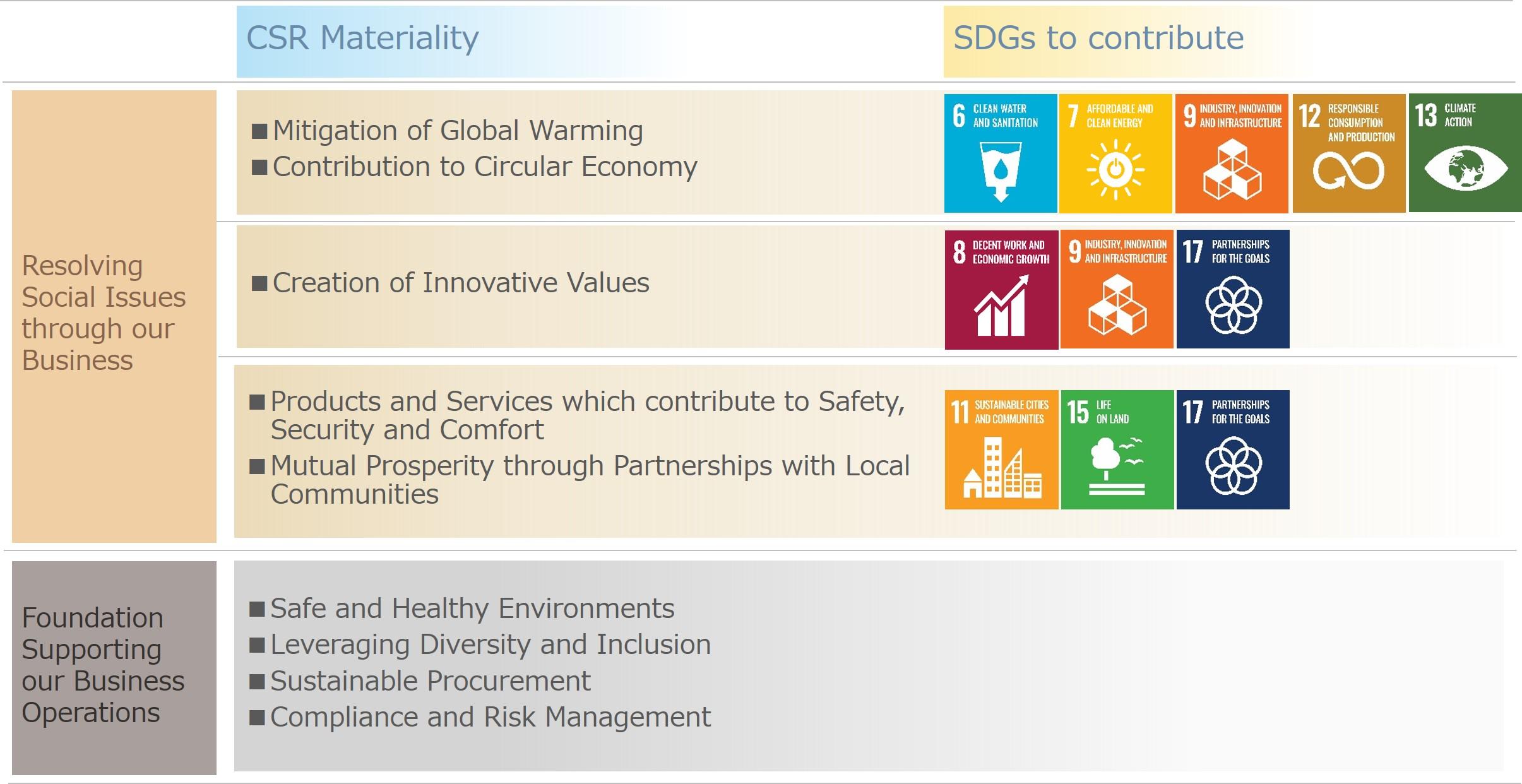 Process to Determine CSR Materiality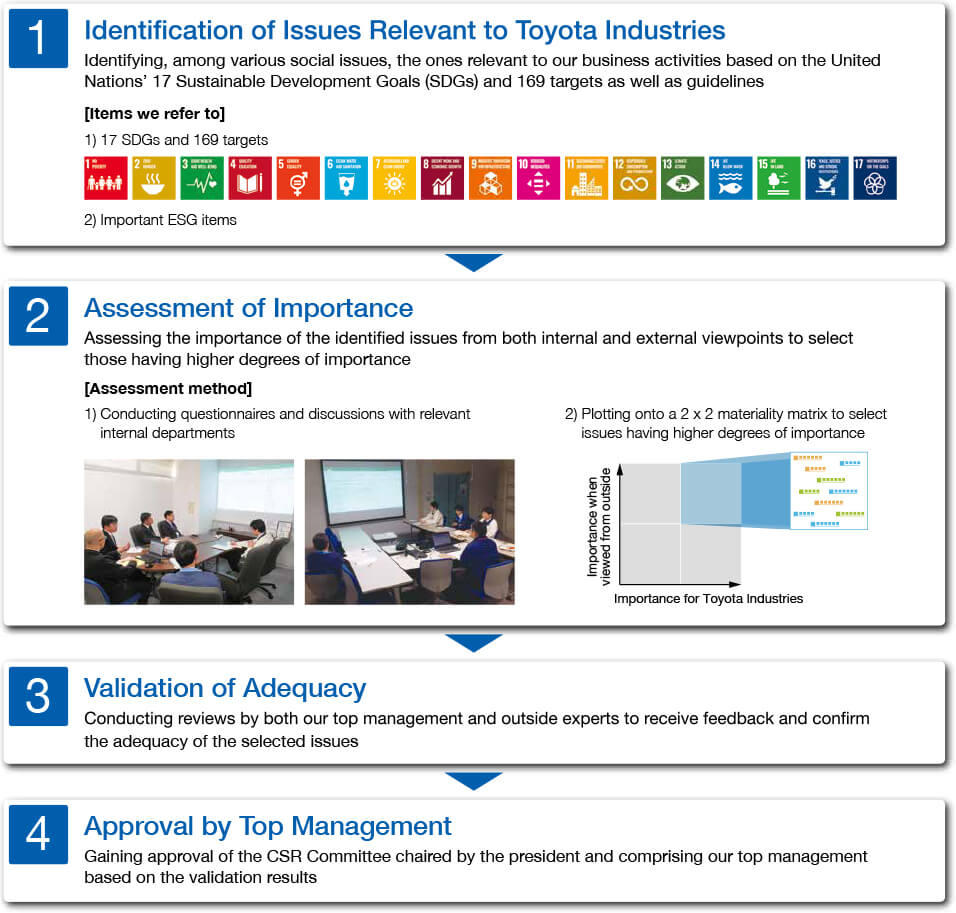 Action Policies, Targets and Results of "Resolving Social Issues through Our Business"
Resolving Social Issues through Our Business

Mitigation of Global Warming
Contribution to Circular Economy
Contribution to Vision 2030 (Aspiration):Clean/zero emissions
Mitigating global warming and achieving a circular economy through such initiatives as reducing CO2 emissions and waste in our business activities and expanding the lineup of environmentally friendly products in our efforts to contribute to maintaining and improving the global environment over the long run
Action Policies
Action Targets and Activities
Targets for
FY 2026
Results for
FY 2022
Reducing CO2 emissions from production activities
Reduce production-derived CO2 emissions Total emissions
-25% *1
(vs FY14 level)
-24%
(vs FY14 level)
Adopt renewable energy sources Introduction rate
15%
11%
Reducing CO2 emissions from production-related logistics
Reduce logistics-derived CO2 emissions Emission volume per unit of production
(non-consolidated)
-11%
(vs FY14 level)
-10%
(vs FY14 level)
Reducing CO2 emissions through product and technology development
Develop technologies that contribute to an even greater level of energy efficiency
-
-
Effective resource utilization in production activities
Reduce waste generation volume
Emission volume per unit of production
(non-consolidated)
-12%
(vs FY14 level)
-17%
(vs FY14 level)
Promote water conservation activities correspoding to the water situations in each country and region
-
-
Implementing initiatives to promote 3R(reduce,reuse and recycle) design for effective resource utilization
Reduce use of resources and promote reuse and recycling of resources
-
-
*1 As a more ambitious target, we are aiming for a 50% reduction by fiscal 2031 from the fiscal 2014 level.
Main Initiatives
Utilization of Renewable Energy—Launching a Verification Test for
Expanding the Use of Renewable Thermal Energy*2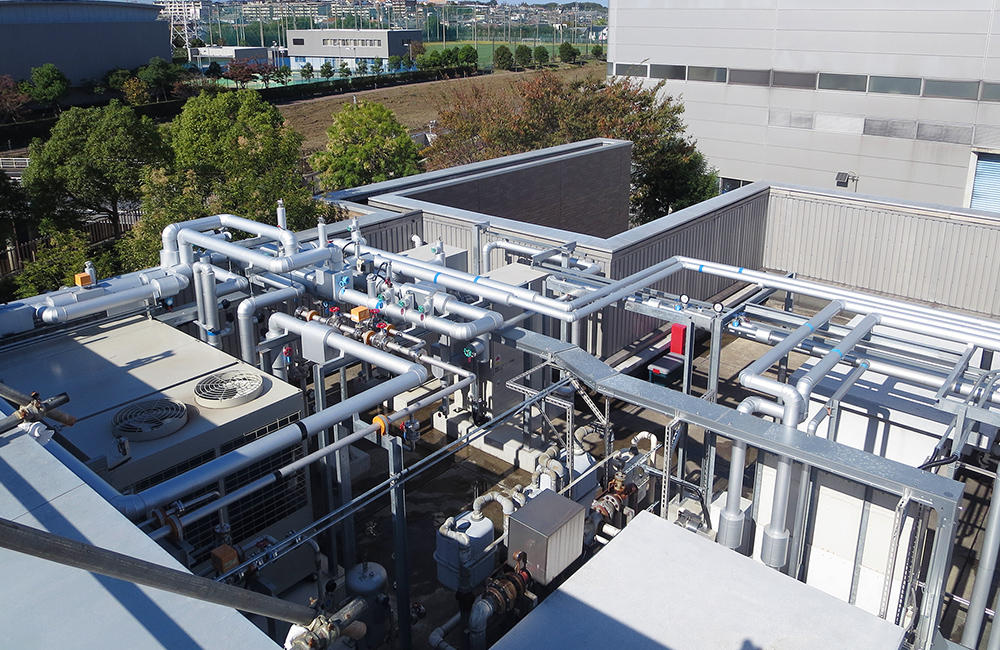 The Obu Plant, a compressor part production base in Aichi Prefecture, is facilitating various CO2 emissions reduction measures to achieve zero CO2 emissions by 2050.
Air conditioners account for about 14% of the plant's entire energy consumption. The amount of energy used by the air conditioners is expected to increase further in the future, as they are needed to improve the workplace environment,especially to counter heat. Along with its conventional energy-saving activities, the plant has been active in reducing energy consumption through the use of renewable energy.
As one such initiative, the Obu Plant introduced an air-conditioning system using renewable thermal energy and initiated a verification test*3. The system has been developed by Kajima Corporation and Zeneral Heatpump Industry Co., Ltd. under the project "Research and Development for Total Cost Reduction of Heat Utilization as Renewable Energy" of the New Energy and Industrial Technology Development Organization (NEDO). The renewable thermal energy obtained through the system is used for air conditioning and supplying hot water for the plant cafeteria. The plant will use the system to cover about 30% of the air-conditioning capability for the entire cafeteria, and after the launch of the system's full-scale operation, plans to reduce its annual CO2 emissions by about 7 tons.
Currently, renewable thermal energy is not used widely despite its abundance because it entails considerable costs for equipment installation. In this verification test, we have set up a structure under which the developers, user and the local government work together toward reducing costs and accelerating widespread acceptance. As the user of the system, Toyota Industries will identify issues in system operation and make proposals for cost reductions while collaborating with the local government to help spread the use of renewable thermal energy in the local community.
Through the participation in the verification test, we intend to accumulate knowhow on the use of renewable thermal energy, such as geothermal and solar heat, and leverage it in reinforcing our CO2 reduction efforts.
*2 Using renewable thermal energy from the ground, sun and air for heating/cooling and supplying hot water
*3: The system's first verification test being conducted under a usage environment in an actual building
Endorsement of the METI's GX League Basic Concept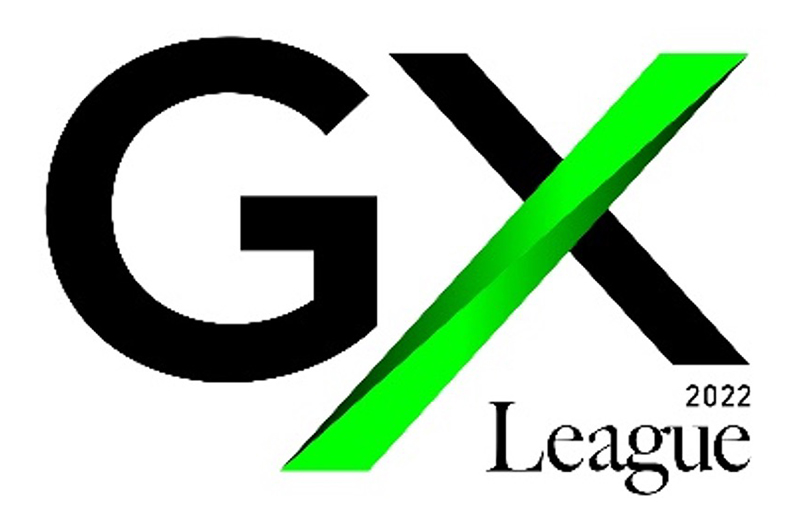 Toyota Industries Corporation has endorsed the Green Transformation (GX)*4 League Basic Concept announced by the Ministry of Economy, Trade and Industry (METI).
The GX League is a forum for companies that are taking on the challenge of GX with a view to achieving carbon neutrality by 2050 and social change, and aiming to achieve sustainable growth, to collaborate with companies, government, and academia that are engaged in similar initiatives.
We have set a goal of challenge for net zero CO2 emissions from our products and production in "Environmental Vision 2050", and are promoting efforts to improve the environmental performance of our products, develop and introduce technologies that reduce CO2 emissions in production process , and utilize renewable energy and hydrogen.
Toyota Industries Corporation has decided to endorse the "GX League Basic Concept" because it is consistent with the concept of Toyota Industries Corporation's efforts to realize a carbon neutral society.
GX League Basic Concept
https://www.meti.go.jp/english/press/2022/0201_001.html
(HP : Ministry of Economy, Trade and Industry)
*4 : Transformation of the entire economic and social system to move quickly to a carbon neutrality.

Creation of Innovative Values
Contribution to Vision 2030 (Aspiration) :Creation of innovative value, smart
Contributing to achieving a "smart" society and more enriched lifestyles by resolving social issues through technological advancement and innovation that create new values
Action Policies
Action Targets and Activities
Targets for
FY 2031
Results for
FY 2022
Targets for
FY 2023
Promoting development of new technologies that create new values
Ratio of R&D expenses for electrification and automation
Over 70%
62.3%
63.0%
Improving core technologies and utilizing the new knowledge of business partners to enter into peripheral fields of existing businesses while developing and offering technologies and products in new business fields
Expand peripheral fields and new business fields Net sales
Over ¥1 trillion
-
-

-Develop new technologies and products that contribute to resolving environmental and social issues

-Develop new technologies and products for logistics automation and expand sales
(Materials Handling Equipment)
Sales of automation products
(growth rate)
Twofold
(100%)
(vs FY2021)
UP36.9%
(vs FY2021)
52%
(vs FY2021)
Main Initiatives
Developing an automated guided forklifts (AGF)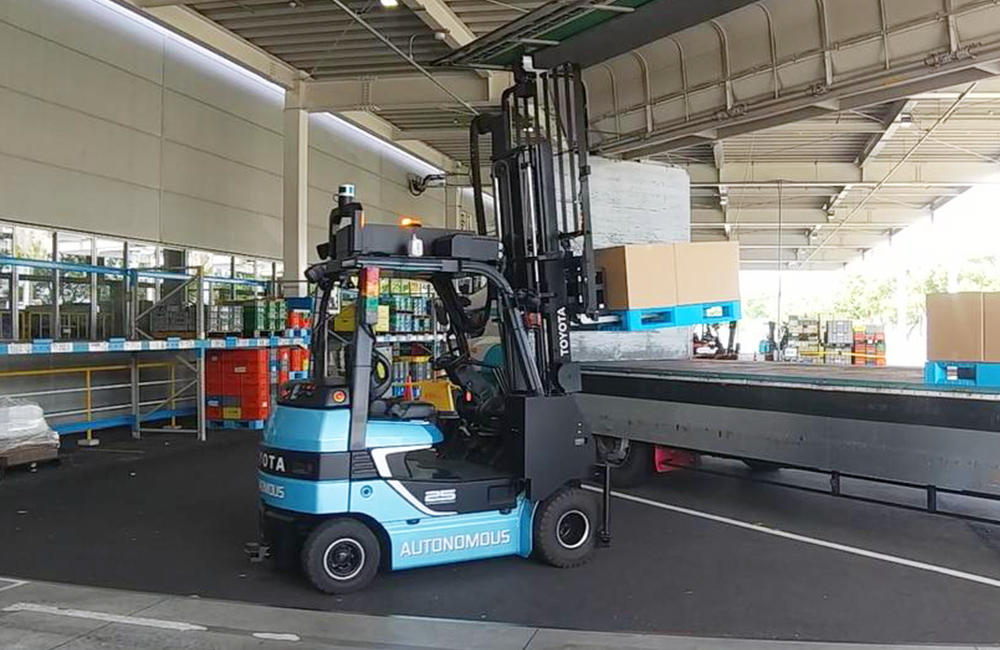 There is an urgent need for better efficiency and labor saving at relay centers (logistics nodes) to counter the serious shortage of truck drivers. As such, we have participated in the demonstration projects*5, 6 promoted by Japan's Ministry of Economy, Trade and Industry and have been developing automated guided forklifts (AGFs).
Looking ahead, we will continue to participate in various demonstration projects. At the same time, we will strive to provide new logistics solutions quickly and in a timely manner by utilizing digital transformation (DX) technologies such as Digital Twin, which creates a virtual replication of an actual environment on a computer to enable running a variety of simulations, in order to achieve more efficient development.
*5: Partnered with NEXT Logistics Japan Co., Ltd. and participated in the 2021 R&D and Demonstration Project to Improve Transportation and Delivery Efficiency through Visualization, Mixed Loading and Automation to work on a feasibility test on automatic truck handling.
*6: Partnered with Daiwa House Co., Ltd., Aeon Global SCM Co., Ltd., Kao Corporation and Hitachi Transport System, Ltd. and participated in the 2021 Project to Further Promote Transport Efficiency by Utilizing AI, IoT, etc., a joint undertaking aimed at improving the efficiency of cargo handling and logistics as well as energy savings in the entire supply chain by utilizing AGFs and other materials handling equipment and linking them with truck operations
New electric towing tractor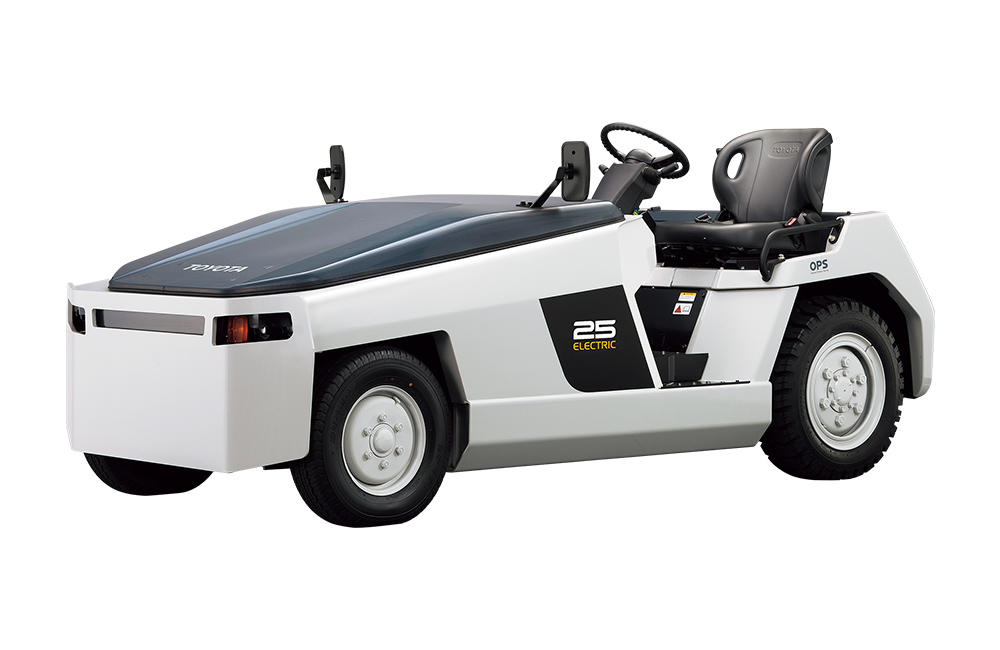 In October 2021, we launched the new 3TE25 electric towing tractor as an environmentally conscious materials handling equipment. The aviation industry, which is a major user of towing tractors, has been also making efforts to reduce CO2 emissions. We aim to contribute to carbon neutrality at airports and other facilities by satisfying the replacement needs for electrification of towing tractors.

Products and Services Which Contribute to Safety, Reliability and Comfort
Mutual Prosperity through Partnerships with Local Communities
Contribution to Vision 2030 (Aspiration) :Safe/reliable, comfortable
Contributing to creating a compassionate society by offering products and services that anticipate the needs of customers and various stakeholders and that are safe, reliable and comfortable to use while fulfilling our responsibilities as a member of society to thrive together
Action Policies
Action Targets and Activities
Targets for
FY 2031
Results for
FY 2022
Targets for
FY 2023
Expand sales of electrification-related products (all businesses)
Ratio of electrification-related products to net sales
Over 70%
43.2%
47%
Enhancing electrification-related products and services that are highly functional, ecologically sound and adaptable as social infrastructure

-Offer highly efficient and energy-saving electric compressors that are excellent in terms of quiet operation and comfort (Automobile Business)




-Offer clean and high-quality fuel cell units and on-board batteries (Automobile and Materials Handling Equipment businesses)




-Offer power source-related products, on-board or otherwise, that can also be used as social infrastructure during disasters and other occasions (Automobile Business)

Offering high-quality and safe products and services and maintaining and improving the structure to realize this goal
Conduct product risk assessment
(target products)
Implementation rate
(non-consolidated)
100%
100%
100%
Continuously promoting grassroots activities in local communities and thrive together as a member of Society
Promote quality education
Training participation rate
(non-consolidated)
100%
99%
100%
Promote social contribution activities Expenditure/number of participants
-
¥930 million/ 21,326 persons
-

-Contribute to biodiversity conservation of local communities




-Promote other community contribution activities
Main Initiatives
Expanding Lineup of Electrification-Related Products

The new Aqua released by Toyota Motor Corporation (TMC) in July 2021 is equipped with a number of Toyota Industries' electrification-related products that include not only a newly developed bipolar nickel-metal hydride battery but also an electric compressor, DC-AC inverter and DC-DC converter.
We have also developed and have been manufacturing products for FCEVs and charging stands, which play an important role as part of social infrastructure. Leveraging our technologies cultivated in these fields to date, we will develop new products and contribute to the expansion of the electrified vehicle markets.
Creation of "Birdpia" by the Higashichita Plant: Joint Initiative of Toyota Group
Companies to Protect Endangered Bird Species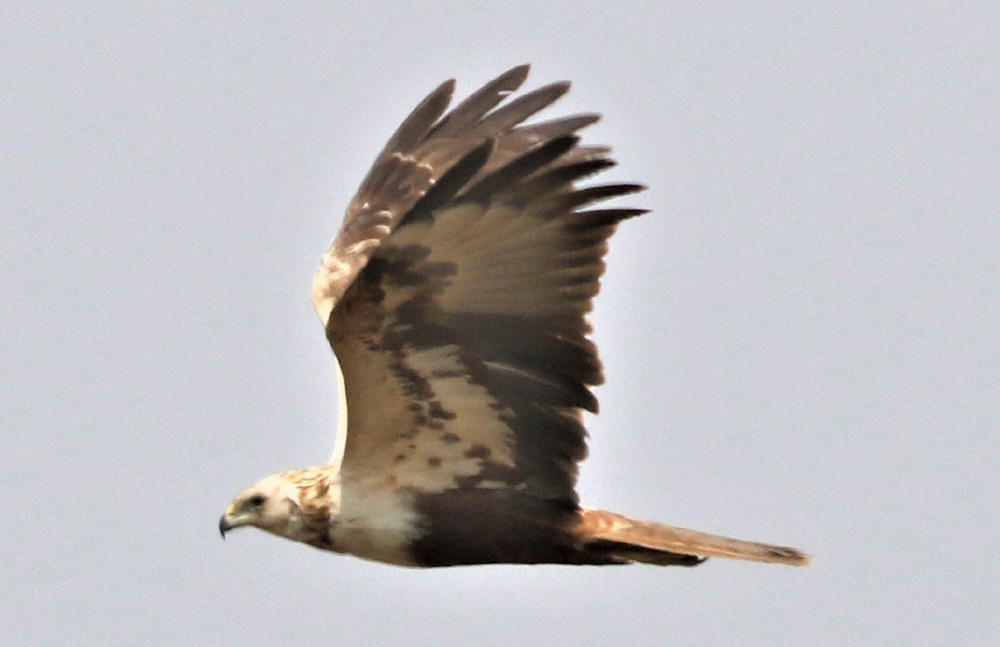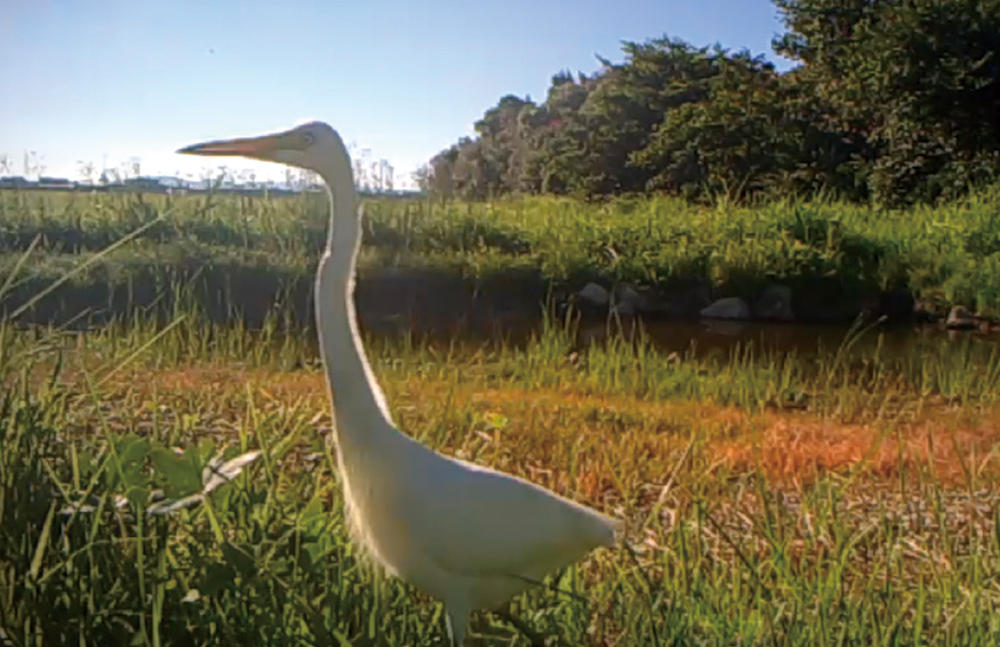 Under the guidance of experts, the Higashichita Plant, an engine production base
in Aichi Prefecture, has been working with other Toyota Group companies to restore Kinuura Bay to its original state by protecting endangered bird species in its coastal area.
To date, a small pond of about 100 m2 has been created to provide a "birdpia," a natural environment that has a constant supply of fresh water, which is essential for living organisms, and is inhabited by insects the birds feed on. The plant has also been facilitating an understanding of the conservation of biodiversity internally, and its employees have joined activities to maintain the birdpia, such as removing tall goldenrod and other non-native weeds.
During the bird monitoring surveys conducted so far, the plant has confirmed that the birdpia has been visited by about 50 species of birds, including eastern marsh harrier designated as a threatened species. Sensor-equipped cameras installed near the pond have caught other birds, such as intermediate egrets and goshawks, both a near threatened species, drinking water from the pond and taking bath in it. In addition to birds,the pond has been used as a water space by mammals, such as Japanese racoons and foxes, as many paw marks of these animals have been found around the pond.
Action Policies, Targets and Results of "Foundation Supporting Our Business Operations"
Foundation Supporting Our Business Operations
Safe and Healthy Work Environments
Leveraging Diversity and Inclusion
Sustainable Procurement
Compliance and Risk Management
Action Policies
Action Targets and Activities
Targets for
FY 2031
Results for
FY 2022
Targets for
FY 2023
Eliminate serious accidents

-Number of serious accidents

0
2
0
-Frequency rate of lost workday injuries
(non-consolidated)
0.00
0.15
0.00
Fostering safe and healthy workplaces for everyone
Utilize diverse human resources
-Ratio of female managers
(non-consolidated)
3.6%
1.7%
-

-Ratio of employees with disabilities (non-consolidated)

Over 2.3%
2.48%
Over 2.30%
Creating the environment for everyone to get a fair share of opportunity to develop and demonstrate their potential
Maintain sound transactions and strengthen structure throughout the supply chain
-Implementation rate of Sustainability checks on target suppliers
(non-consolidated)
100%
100%
(960 companies)
100%
(970 companies)
Establishing the foundation to remain a company that is trusted and needed by society
Eliminate serious compliance violations
Number of violations
0
0
0
Promote risk management activities taking a risk-based approach


-Improve BCP effectiveness

-Respond to cybersecurity risks Number of serious incidents

0
0
0
Main Initiatives
Sustainability-Related Efforts in the Supply Chain
<Sustainability Guidelines for Suppliers>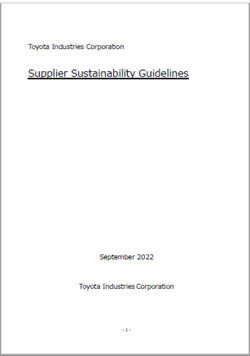 To work together throughout the supply chain to realize a sustainable society, we publicize the Sustainability Guidelines for Suppliers (formerly, the CSR Guidelines for Suppliers), which describe our requirements for suppliers related to safety, human rights, labor practices, the environment, compliance and other topics. With increasing importance placed on procurement giving due consideration to human rights and environmental issues, we revised the guidelines in December 2021 and distributed them to suppliers while thoroughly informing them about the content. We have confirmed their compliance with the guidelines by performing an annual check on existing suppliers and requesting new suppliers to perform a self-inspection using a checklist and following up on their efforts. Moreover, through a periodic check on commodity items of concern, we are striving to maintain healthy transactions and reinforce a related structure throughout the supply chain.
Information Security Monitoring and Incident Response
To ensure the early detection of and prompt action against cyberattacks, we have in place systems to monitor the security of PCs and all other terminals used within the Toyota Industries Group and to respond to incidents 24 hours a day, 7 days a week.
Upon the occurrence of an incident, we immediately report it to the president and senior management and share relevant information within Toyota Industries. We also share threat information with our consolidated subsidiaries in and outside Japan to swiftly alert each company.