Spinning Machinery
Toyota Industries has developed a rich lineup of spinning machinery to meet the varied needs of our customers, including high-speed ring spinning frames and roving frames. We are working to combine the pursuit of great spinning performance to produce high-quality yarn, with reduced energy consumption into our product development.
RX300 (High-Speed Ring Spinning Frame)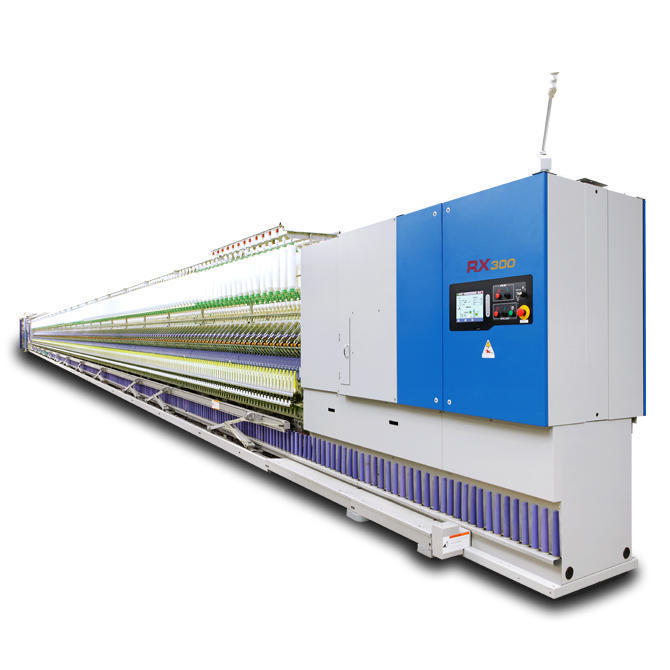 The RX300 delivers the high quality, high productivity, superior operability, and easy maintenance demanded of a spinning frame through such advanced Toyota technologies as proprietary spinning geometry, positive lifting, and a 10.5-inch color function panel. We also mounted a system to handle the full range of fancy yarns, the first spinning frame manufacturer in the world to do so. With simple, easy operation, fancy yarns can be spun in all patterns. In addition, the Toyota Monitoring System (TMS) that enables connection to the Internet, a space-saving (up to 1,824 spindles), energy-efficient design(reduce power consumption by approximately 5%) at world-class levels, and minimal doffing times promise satisfaction and reassurance in every way.
Main specifications
| | |
| --- | --- |
| Maximum spindle speed | 25,000rpm |
| Maximum number of spindles | 1,824 spindles |
| Spindle gauge | 70 mm, 75 mm |
| Bobbin length (lift) | 180(155)mm, 210(185)mm, 230(205)mm |
| Spindle driving system | 4 spindles by spindle tape |
| Pneumatic suction cleaning system | single nozzle |
FL200 (High-Speed Roving Frame)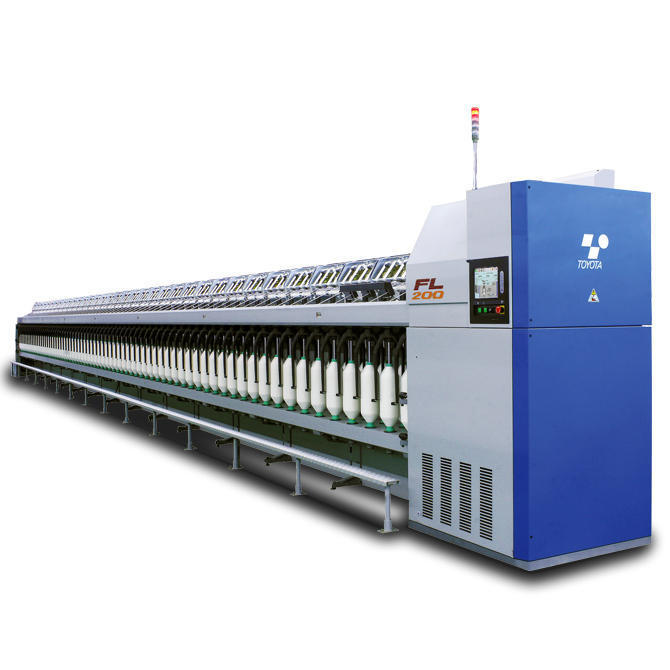 The state-of-the-art FL200 was born out of Toyota's unrelenting pursuit of the ideal roving frame, one that enables anyone to produce high-quality roving at high speeds, the aim of the FL100. The independent three-motor drive established in the FL100 has evolved and developed into a four-motor drive, and the latest in servo technology and dramatically improved CPU performance provides even greater accuracy and control. The FL200 demonstrates outstanding performance in every aspect of productivity and roving quality as a result of synergy with its high-performance tension controller. Plus, an interactive color function panel with easy-to-read icon display enables automatic setting of optimal conditions with simple, easy operation.
Main specifications
| | |
| --- | --- |
| Maximum Number of spindles | 192 (440mm staff)/ 200 (520mm staff) |
| Lift | 406mm |
| Full-bobbin diameter | 152mm |
| Draft system | 4-line, D-type, double apron |