Weaving Machinery
Toyota Industries develops and manufacturers air jet looms which insert the weft yarn using air, and water jet looms which insert the weft yarn using water. We provide our customers all over the world with state-of-the-art weaving machinery that excels in speedy and reliable performance.
Air Jet Loom
JAT910
As the best-selling air jet loom, the JAT series looms are used by customers all around the world.Based on the JAT concept "Weaving the highest quality fabric at the lowest possible cost",Toyota has embodied the desire to continue developing together with our customers while grasping the needs that change with time. We will continue to contribute to the realization of sustainable society and the creation of a prosperous future through our air jet looms.
[Main specifications]
| | |
| --- | --- |
| Weft insertion | single electric drum, 2-, 4-, 6-, 8-color exchange electric drum |
| Nominal reed space | 140cm 150cm 170cm 190cm 210cm 230cm 250cm 260cm 280cm 300cm 340cm 360cm 390cm |
| Shedding | negative cam, positive cam, crank, dobby, electric shedding, jacquard |
Water Jet Loom
LWT810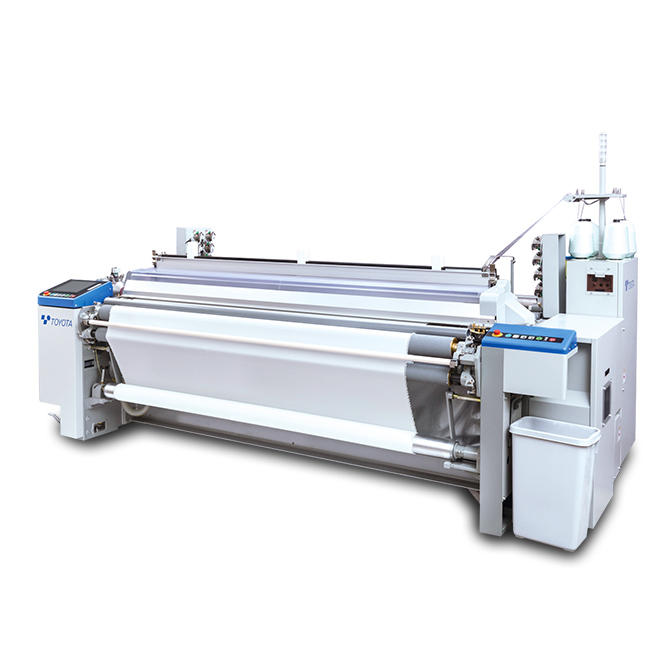 The LWT810 enhances the productivity and the quality with the latest technology advancements that customers expect from Toyota while achieving the highest energy savings to protect our environment.
[Main specifications]
| | |
| --- | --- |
| Weft insertion | single pump, double pump |
| Nominal reed space | 170cm 190cm 210cm 230cm 280cm |
| Shedding | negative cam, positive cam, crank, dobby |