Materials Handling Equipment
Toyota Industries develops, produces, sells and provides services for a broad range of products, from industrial vehicles centered around a full lineup of lift trucks to materials handling systems. Lift trucks, which capture the top global market share, are delivered to customers around the world under the TOYOTA, RAYMOND and CESAB brands.
Global Business Development Led by Toyota Material Handling Group (TMHG)
As a market leader in the materials handling equipment and logistics fields, Toyota Industries assists customers worldwide in attaining greater logistics efficiencies by delivering logistics solutions optimally tailored to their specific needs. Under the TMHG management structure, we engage in business under the TOYOTA, RAYMOND and CESAB brands. Mutually utilizing the sales and development strengths of each brand, TMHG is promoting business expansion on a global scale.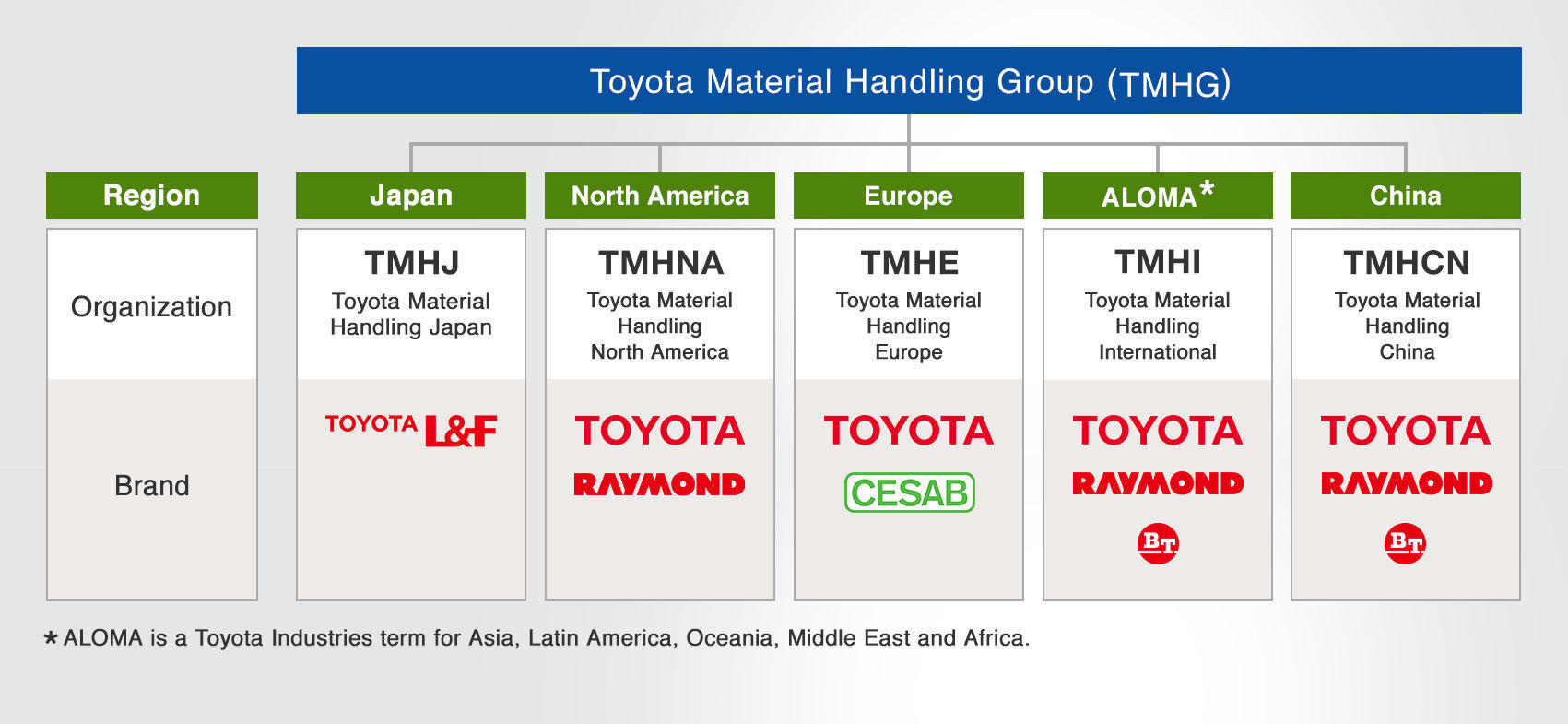 Our Brands
Toyota Industries' materials handling umbrella organization Toyota Material Handling Group has two strong brands: TOYOTA and RAYMOND, offering optimal materials handling solutions to customers all over the world. We also have the CESAB brand, which is highly recognized in the Italian market.
Aerial work platforms are provided under the AICHI brand.

Leading the Way in Its Advanced Lift Trucks and Other Materials Handling Equipment
The TOYOTA brand's lift trucks and other industrial vehicles, as well as its materials handling equipment and systems are highly trusted by our customers. In particular, our full lineup of both internal combustion and electric lift trucks ranging in capacity from 0.5 to over 40 tons have obtained top-class market share around the world thanks to their superior quality and functionality. In addition, our other industrial vehicles including skid steer loaders and tow tractors have also received high praise.
We also have an established reputation in the field of materials handling systems and equipment related to "conveyance," "storage," and "sorting."
We will provide our customers with optimized materials handling solutions based on our wide range of advanced TOYOTA brand products and wealth of know-how and experience accumulated over many years of operation.


Global Provider of Electric Lift Trucks, Telematics, Lift Truck Training and End-to-End Warehouse Solutions
For more than 100 years Raymond has built a reputation based on top-notch quality and reliability, industry-leading innovation and exceptional customer service. Raymond designs and builds the best electric lift trucks in the industry-including reach trucks, pallet jacks, pallet stackers, sit-down and stand-up counterbalanced lift trucks, order pickers and turret trucks. Raymond provides technologies, systems and intralogistics solutions to optimize and maximize performance in warehouse and distribution operations which include integrated automation, telematics, virtual reality learning and advanced energy solutions. Raymond and its network of Solutions and Support Centers take pride in their commitment to helping customers run better, manage smarter and keep their operations always on.
---


Aiming to Be the Number One Company for Aerial Work Platforms to the Only One of Its Kind
AICHI is the top brand in Japan's aerial work platform market and is a leading manufacturer of special purpose vehicles. Through the whole life cycle of AICHI products, from introduction and usage through to renewal, we do our best to ensure worksites are comfortable, efficient and cost effective, providing the maximum satisfaction to AICHI customers. We aim to go from being the number one company for aerial work platforms to the only one of its kind, forging a lifetime partnership with our clients, who can expect nothing less than the best from us.

Expanding operations of Logistics Solutions Business
Toyota Industries plans, develops, and creates materials handling equipment and systems, thereby promoting the expansion of the logistics solutions business that resolves logistics issues.
We provide automated storage and retrieval systems, automated guided vehicles, and other high-quality products based on the experience and expertise in materials handling equipment we have nurtured through our lift truck business, which has the top share in the global market. At the same time, we have expanded our business field into the development of warehouse logistics, including distribution centers, by taking advantage of our efficient production and logistics method, which is a strength of the Toyota Group.
In 2017, Netherlands-based Vanderlande Industries Holding B.V. and North America-based Bastian Solutions LLC, in 2022, Germany-based viastore Intralogistics Holding GmbH became part of TICO and we formed TALG (Toyota Advanced Logistics Group). By three companies working together closely while leveraging respective strengths, we provide the best logistics solutions to maximize operational efficiency of our customers.