US-Based Subsidiaries MACI and TIEM Mark 25 Years of Business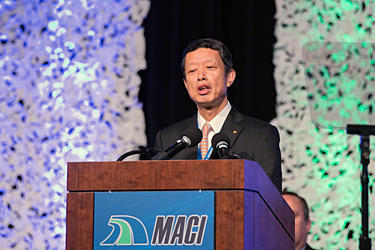 Two American subsidiaries of Toyota Industries Corporation ("Toyota Industries"), Michigan-based Michigan Automotive Compressor, Inc. ("MACI"), a manufacturer of automotive air-conditioning compressors, and Indiana-based Toyota Industrial Equipment Mgf., Inc. ("TIEM"), a manufacturer of materials handling equipment, recently celebrated 25 years of business.
MACI and TIEM have the longest histories of any Toyota Industries overseas subsidiaries. The global development of business that boasts the world's top market shares for compressors and materials handling equipment started with these two companies.
MACI held a commemorative ceremony at its plant on October 13. Toyota Industries President Akira Onishi, senior managing director in charge of the Compressor Division Masaharu Suzuki, and about 350 other concerned parties attended.
rising value of the yen in the late 1980s. Production of fixed-displacement type compressors that maintain high durability and reliability even after use at high speeds for extended periods began in June 1990, with annual capacity of approximately 700,000 units.
The company currently focuses on high-efficiency, low fuel consumption continuous variable-displacement type compressors with low environmental impact and manufactures more than 5 million units annually, making it America's largest compressor manufacturer. Cumulative production is expected to reach 100 million units in December 2015.
TIEM held a commemorative ceremony on October 15. Attending were Toyota Industries President Akira Onishi, Toyota Material Handling Group President Kazue Sasaki, and about 130 other concerned persons. TIEM was established in October 1988 and began producing engine lift trucks in May 1990. Production of electric-powered vehicles began in 2001, and production of towing tractors started in 2008. After a quarter century of production, TIEM has provided a total of more than 500,000 vehicles to the market.
TIEM has contributed the number-one share of the U.S. market with Toyota brand lift trucks for 13 consecutive years since 2002, supported by high quality and reliability.
After establishing MACI and TIEM, Toyota Industries established many production sites in Europe and Asia. Today, Toyota Industries has a global network that includes 7 overseas compressor production sites and 34 overseas materials handling equipment production sites. Going forward, Toyota industries is committed to the stable supply of high-quality products to customers around the world.


Corporate Profile
MACI

1)

Company Name:

Michigan Automotive Compressor, Inc.

2)

Established:

January, 1989

3)

Operation Start:

June, 1990

4)

Location:

Palma, Michigan, U.S.A

5)

Representative:

Tatsuhito Ishikawa

6)

Capital:

$146 million (Toyota Industries 60%, DENSO Corporation 40%)

7)

Employees:

1,017 (As of March 31, 2015)

8)

Business Activities:

Manufacture and sales of car air-conditioning compressors and magnetic clutches

9)

Units Sold:

5.4 million units (Fiscal year ended March 2015)
TIEM

1)

Company Name:

Toyota Industrial Equipment Mfg., Inc.

2)

Established:

October, 1988

3)

Operation Start:

May, 1990

4)

Location:

Columbus, Indiana, U.S.A

5)

Representative:

Takafumi Zensho

6)

Capital:

$60 million

7)

Employees:

1,065 (As of March 31, 2015)

8)

Business Activities:

Manufacture and sales of industrial equipment

9)

Units Sold:

(Fiscal year ended March 2015)