Three Lift Trucks Simultaneously Win German iF Design Awards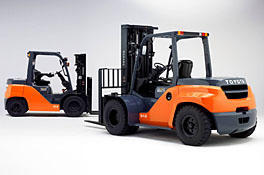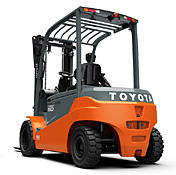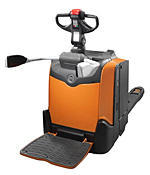 Toyota Industries Corporation (TICO) won the German iF Design Award for its GENEO(8 Series/Tonero in some markets outside Japan) lineup of new 3.5-ton to 8.0-ton internal combustion counterbalanced lift trucks that was launched in July 2014. These products have been acclaimed and previously won the Good Design Award in Japan and the German Design Award.
In addition to the GENEO, the Traigo 80 electric lift truck and the BT Levio P compact electric lift truck, which were launched in Europe, also won iF Design Awards. Since TICO won its first iF Design Award in 2009, it has received the awards for six different products*.
The iF Design Award is one of the world's most prominent design awards and has been presented annually by the Hanover, Germany-based iF International Forum Design since 1954. The number of applications increases every year, and in 2014, a total of 4,783 entries from 60 countries (53 countries in 2013) were submitted in the product category, and 1,629 products were selected for iF Design Awards.
The award-winning GENEO features a new, electronically-controlled clean engine and other equipment to achieve world-leading fuel efficiency and low emissions. The diesel vehicle does not use a diesel particulate filter and meets emissions standards in all countries. The other two award winners are products with ergonomic designs and the performance, functions, operability, and comfort required by European users.
TICO is committed to contributing the construction of optimal logistics environments around the world through its broad lineup of high-quality products and the largest sales and service networks in the industry.
An overview of the iF Design Award is below.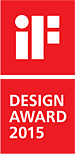 iF Design Award 2015
The iF Design Award is a globally-prominent industrial design award with 16 categories including home electronics, computers, public design, and transportation. Industrial products submitted from countries around the world are evaluated for their total product value based on design quality, originality, materials, functionality, technological innovation, ergonomics, safety, environmental impact, and other factors.
*This 3 models are added to "Traigo 80", "BT Levio W" and "BT Optio L" which they won before.