Establishing a Carbon Neutral Society
To establish a carbon-neutral society, Toyota Industries has set the prevention of global warming as our highest priority issue and seeks to reduce emissions during product use and energy usage in the business activities of all sites and to minimize CO2 emissions throughout the entire value chain.

Our Approach
For Toyota Industries, dealing with global warming is not just a "risk." It also presents "opportunities" in doing business to both differentiate ourselves by leveraging our technology-based product appeal and conduct eco-conscious production activities. For the ultimate goal of establishing a carbon neutral society as stated in our Global Environment Commitment, we set a goal of establishing a zero CO2 emissions society on a global basis in our Environmental Vision 2050 and have been making efforts to reduce greenhouse gas (GHG) emissions throughout our entire supply chain. In the area of product development, we have been promoting the development of technologies related to environmentally friendly products in various fields, including electrification. In production activities, promoting thorough energy savings and utilizing renewable energy and hydrogen are the two pillars of our activities. As specific efforts, we will adopt solar and other renewable energy sources and effectively utilize clean energy, such as hydrogen, while thoroughly eliminating wasteful use of energy in production processes and increasing the efficient use of energy.
Endorsement of the TCFD Recommendations
Toyota Industries announced its endorsement of the TCFD* recommendations in December 2019. We see climate-change related risks and opportunities as a crucial management issue and take action with climate change as one of our CSR material issues. In November 2021, we conducted scenario analysis in the materials handling equipment business and disclosed information relating to governance, strategies, risk management, metrics and targets, which are the disclosure items recommended by the TCFD.
* The Task Force on Climate-related Financial Disclosures. The task force was established in 2015 pursuant to a request from the G20 to investigate climate-related disclosure by the Financial Stability Board and how financial institutions should respond.
<Governance>
We established three committees under the Board of Directors: a Management Committee to address the Company's management vision and mid-term management strategy, including climate change; a CSR Committee; and an Environmental Committee to handle specific areas of expertise and discuss important matters related to climate change. The CSR Committee and the Environmental Committee are chaired by the President. The committees deliberate and investigate important matters related to the promotion of environmental management. Such matters include formulation of mid- and long-term targets for key management indicators related to climate change, such as the achievement of CO2 emissions targets, progress management, and investments related to energy conservation.
<Strategy>
To identify the impacts that climate change risks and opportunities will have on the Company, we conducted scenario analysis in the materials handling equipment business, one of our core businesses. The time frames were set at 2030 and 2050, the years adopted in the medium-term business strategy and long-term environmental vision. The scenarios adopted were the below 2°C scenario, under which the Company will be exposed to transition risks, and the 4°C scenario, under which the Company will it be exposed to physical risks. When performing the analysis, we made reference to the future scenarios relating to representative concentration pathways (RCP 2.6 and 8.5 scenarios) in the Fifth Assessment Report of the Intergovernmental Panel on Climate Change (IPCC) as well as the Sustainable Development Scenario (SDS) and the Stated Policies Scenario (STEPS) in the World Energy Outlook of the International Energy Agency (IEA).
Assumed Analysis Scenario Conditions
| | Analysis conditions |
| --- | --- |
| Business | Materials Handling Equipment |
| Scope | Value chain |
| Time frames | 2030 and 2050 |
| Scenarios | Below 2°C scenario and 4°C scenario |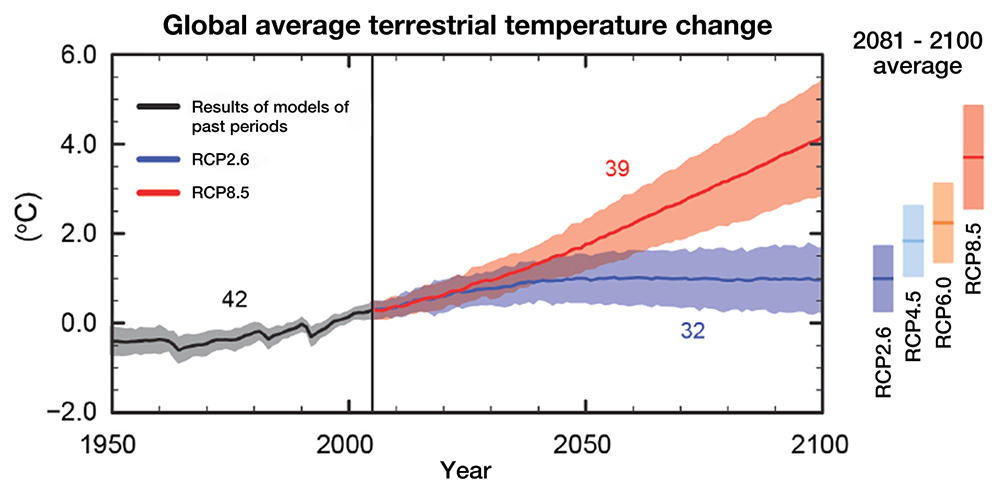 Source: Japan Meteorological Agency, Climate Change 2013, Natural Science Basis, Summary for Policymakers
Image of the Company's social conditions under each scenario
Below 2°C scenario
4°C scenario
Market
・Increase in logistics and transportation volume, decentralization of logistics facilities
・Market expansion for warehouse automation, Automated Guided Vehicles (AGVs), and Autonomous Mobile Robots (AMRs)
・Increase in demand for electric and fuel cell lift Trucks
Impact of 4°C scenario is slower than for below 2°C scenario
Policy and regulatory
・Increase in operating and procurement costs due to introduction of carbon tax
・Introduction of new regulations to mitigate climate change
・Strengthened existing regulations
Reputation
・Strengthened disclosure requirements for climate change-related information
・ESG investment expansion
Physical environment
Impact of below 2°C scenario is slower than for 4°C scenario
・Chronic temperature increase
・Increased frequency of flooding
・Sea level rise
We identified the business risks and opportunities under the above scenarios that would have a significant impact on our business. We then identified, for example, the risk of sales decreasing due to stricter regulations concerning climate change mitigation and opportunities to increase sales as a result of higher demand for products with outstanding environmental performance, set these as targets for CSR material issues, and incorporated them into our business strategies.
Assessment of financial impacts through scenario analysis
Risks and Opportunities Relating to Climate Change over the Short, Medium, and Long-Term
Risks
Transition risks
(Below 2°C)
・Increase in operating costs due to the introduction of carbon tax
・Increase in procurement costs for materials and parts due to carbon tax price shifting
・Decline in sales due to lower demand for internal combustion engine vehicles as a result of new regulations and tighter existing regulations to mitigate climate change
・Decline in stock price in case investors deemed our climate-related disclosure reluctant
Physical risks (4°C)
・Decline in sales due to the suspension of operations of suppliers and damage to logistics functions caused by natural disasters (flooding due to heavy rain, etc.)
Opportunities
・Sales increase due to growing demand for products with superior environmental performance
(Electrification, hydrogen fuel, and biofuel vehicles, etc.)
・Sales increase accompanying increased number of small distribution warehouses due to decentralization of distribution bases to build a disaster-resilient distribution system
・Sales increase of automation products thanks to unmanned distribution warehouses to reduce CO2 emissions from lighting and air conditioning
Responses to Risks and Opportunities
Responses to Risks and Opportunities
Production
・Reduce CO2 emissions from production activities
・Promote the efficient adoption of renewable energy
・Demonstrative introduction of hydrogen facilities
・Contribute to hydrogen supply chain establishment
Products
・Develop new technologies and products that help in resolving environmental and social issues
・Develop new technologies and products for logistics automation and expand sales
・Expand sales of electrification-related products
・Provide clean, high-quality fuel cell units and on- board batteries
Disclosure
・Enhance disclosure, strengthen communication
・Global standard GHG calculations
・Obtain third-party certification
<Risk Management>
Climate-related risks have been expressly defined as one of the Company's CSR material issues and are managed under company-wide risk management structures. We set clear management metrics and targets in order to mitigate the impacts of climate-related risks, and the CSR Committee, and Environmental Committee, both of which are chaired by the President, perform periodic monitoring.
<Indicators and Targets>
In order to mitigate risk and expand opportunities posed by climate change, we have set medium- to long-term targets for products and production.
Targets
With regard to Scope 1 and 2 emissions, we will improve production and operating processes, introduce high-efficiency, energy-saving equipment, electrified production processes, and switch fuels to hydrogen and other forms of clean energy. With regard to Scope 3, we will reduce CO2 emissions by electrifying products, raising their efficiency, and making them lighter, increasing loading efficiency and transport efficiency and logistics, and taking other measures.
CO2 emissions in out production activities
SCOPE1
Direct emissions of greenhouse gas emissions by a business operator (combustion of fuel, industrial processes)
SCOPE2
Indirect emissions in conjunction with the use of electricity, heat, and steam supplied by other companies
CO2 emissions outside of our production activities
SCOPE3
Indirect emissions other than Scope 1 and Scope 2 (emissions of other companies related to the business operator's activities)
For example, emissions generated in the use and disposal stages of the Company's products
<Production>
Target year
CO2 emissions
Renewable energy ratio

Targets
FY2026
Down 25% from FY2014
15%
FY2031
Down 50% from FY2014
-
2050
0
-
Note: Some basis year, emissions factors, and other items have been revised from the Seventh Environmental Action Plan
<Product>
Target year

CO2 emissions
Targets
FY2026
-
FY2031
-
2050
CN
Activity Results
SCOPE1、2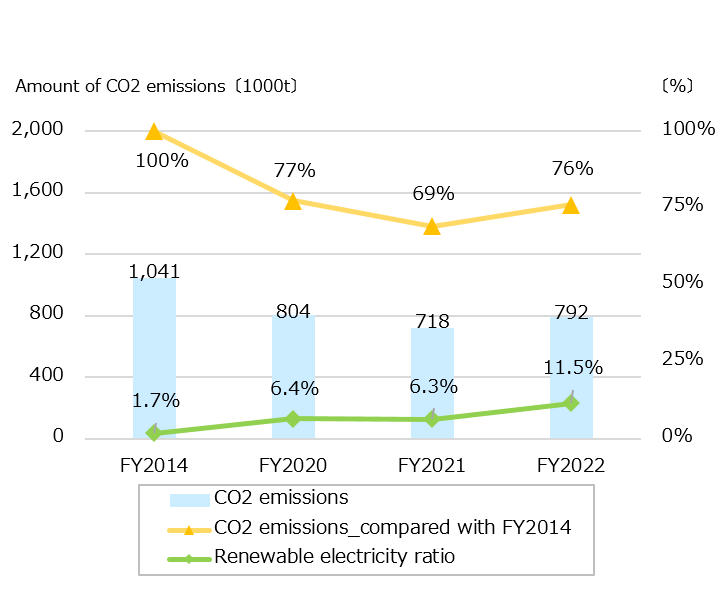 Under the Seventh Environmental Action Plan, we are working to reduce CO2 emissions from production process by 25% from the fiscal 2014 level by fiscal 2026. In fiscal 2022, we achieved our CO2 emission reduction target by promoting energy-saving activities, including loss reduction activities to eliminate waste, replacement of air conditioners with more efficient ones and active introduction of renewable energy.
*Under the Seventh Environmental Action Plan, this data are different from the data in Data Library because the targets are managed using the originally defined scope and emission factors.
SCOPE3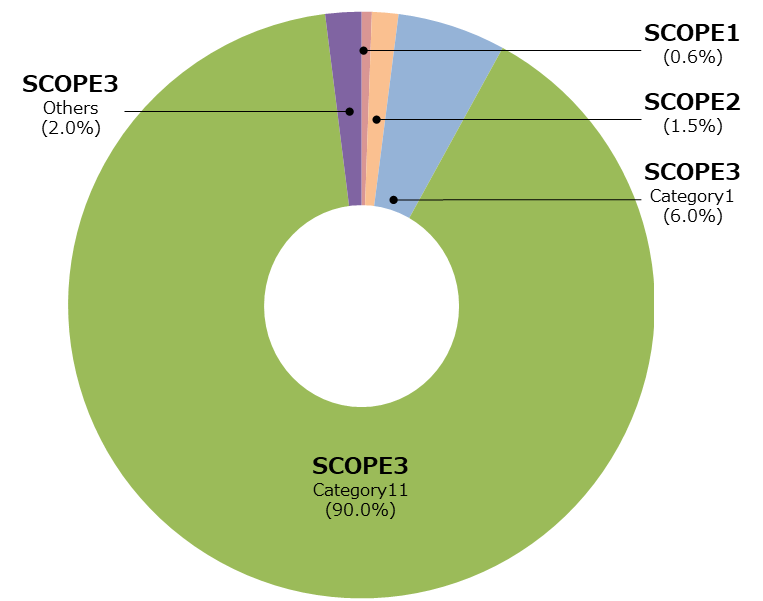 Fiscal 2022 results were as follows. Scope 1 and 2 emissions accounted for 2.1% of the total, while Scope 3 emissions* accounted for 98.0% of the total. The area with the highest emissions was Category 11 (emissions from use of sold products) of Scope 3, accounting for 90.0% of total Scope 3 emissions.
*Total Scope 3 emissions: 41,113,427 t-CO2
Examples
  Toyota Industries Report 2022 p20-23
Product: Seeking Further Growth by Evolving and Enhancing
Electrified Products We Have Developed Ahead of the Times
  Toyota Industries Report 2022 p44
Production: Neutralizing Static Electricity Only in Applicable Areas and Successfully
Relaxing In-Plant Air-Conditioning Criteria
  Toyota Industries Report 2022 p44-45
Production: Promoting the Introduction of Renewable Energy in the Toyota Industries Group
  Toyota Industries Report 2022 p45
Production: Utilization of Renewable Energy—Launching a Verification Test for
Expanding the Use of Renewable Thermal Energy