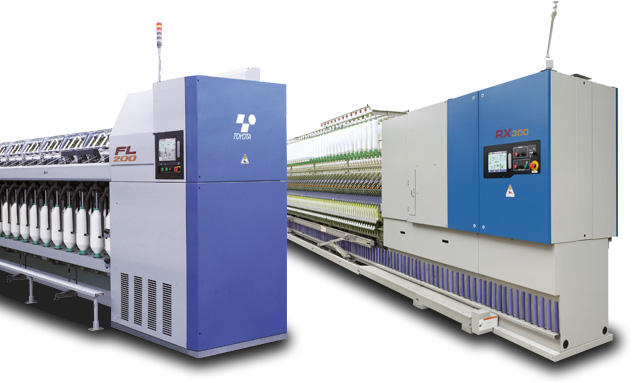 The Textile Machinery Division, our original business, began with the invention of the automatic loom by founder Sakichi Toyoda. Presently, we undertake fully integrated operations from development and production to sales and after-sales services for spinning machines that spin twisted fiber bundles into yarn and weaving machines that weave spun yarn into fabrics. Our textile machinery is supplied to markets worldwide.
Thanks to superb reliability and high productivity, our air-jet looms have won extensive acclaim from customers around the globe, capturing the world-leading market share in terms of unit sales.
Business Development of Weaving and Spinning Machinery
In the field of weaving machinery, we introduced an improved electronic shedding device to our JAT810 air-jet loom, for which we enjoy the world's top market share. This shedding device serves to increase textile variations by enabling the weaving of fabrics with complex patterns. In the field of spinning machinery, Kirloskar Toyota Textile Machinery Pvt. Ltd. (KTTM), a consolidated subsidiary in India, commenced in October 2014 production of the RX300 ring spinning frame to be exported throughout the world. Producing the RX300 in India, which is one of the two largest spinning machinery markets in the world, enables us to be closer to our customers, thereby contributing to enhancing our services and improving logistics efficiency.
---