BT Products

Find more about BT's sales network and products.
Product Information
BT Vector (Very Narrow Aisle Truck)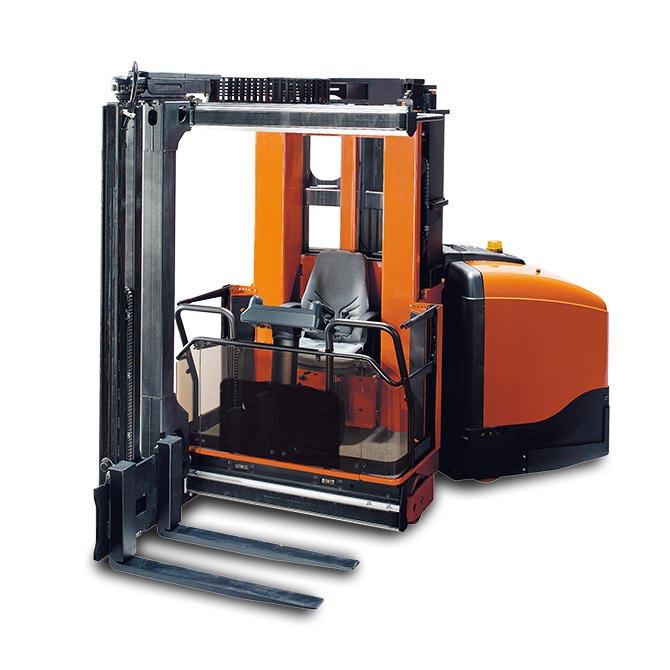 The BT Vector range is the most suitable range for pallet handling and order picking in work places where space optimization and high efficiency are of utmost importance. A key feature is a flexible three way fork system that allows material handling to the left, right and forward which makes pallet handling possible where only the truck width plus a bit more space is available. Another key feature is the BT Optipace system, which optimizes speed, acceleration and braking with regard to fork height combines both safety and work efficiency. The Wire Guidance System is also available as an option. Good visibility and functionally arranged operation levers minimize the burden on the operator.
BT Reflex (seated-type reach truck)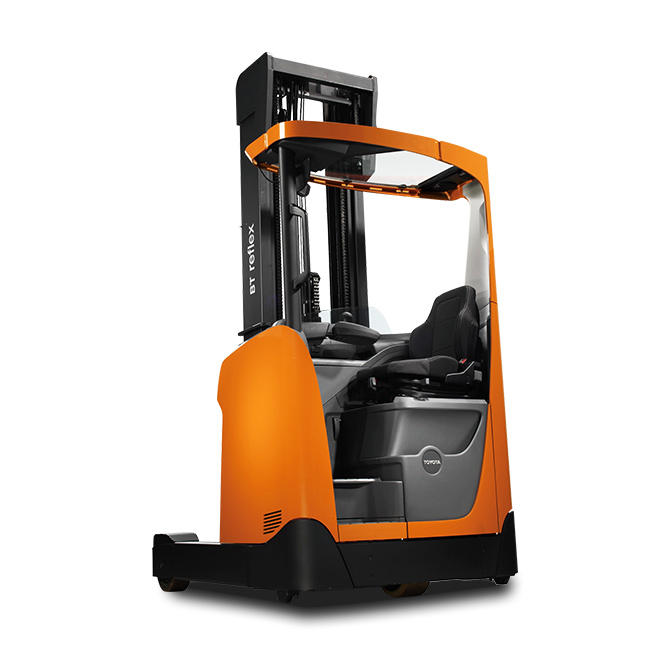 BT Reflex reach trucks — with load capacities from 1.4 - 2.5 tons deliver class-leading performance. BT reach trucks deliver excellent acceleration, lift and braking performance characteristics which are easy to program and control thanks to the intelligent man-machine interface. Advanced AC power brings low operating cost and fast working cycles. All BT Reflex trucks have an advanced transitional lift control system which achieves high-speed — yet completely smooth — lifting and lowering.
BT Staxio (support arm stacker truck)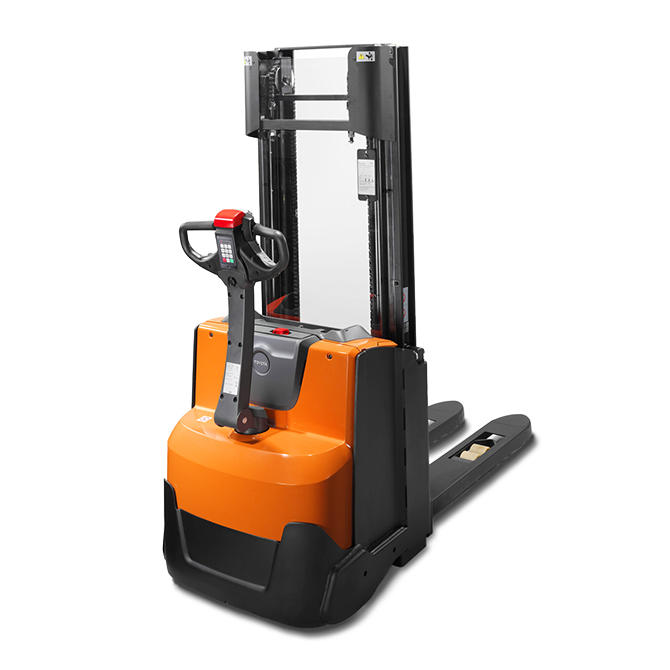 The BT Staxio is a series of stackers for walkie applications. BT Staxio stackers are compact, easy-to-use and powered by a low-maintenance and efficient AC drive motor — part of BT Powerdrive. On all BT Staxio models the truck body profile lowers towards the forks, enhancing visibility. The tiller arm is designed so the distance between operator and truck is big enough to protect the operator's feet while still allowing him or her to be close enough to the machine to have an excellent view of the fork tips or load. These two features combine with clear-view masts to create the 'BT Totalview' concept, ensuring the operator has excellent visibility both at ground level and when positioning loads at height. An optional spring-loaded driver platform improves productivity when handling goods over longer distances.
BT Optio (Low Level Order Picking Truck)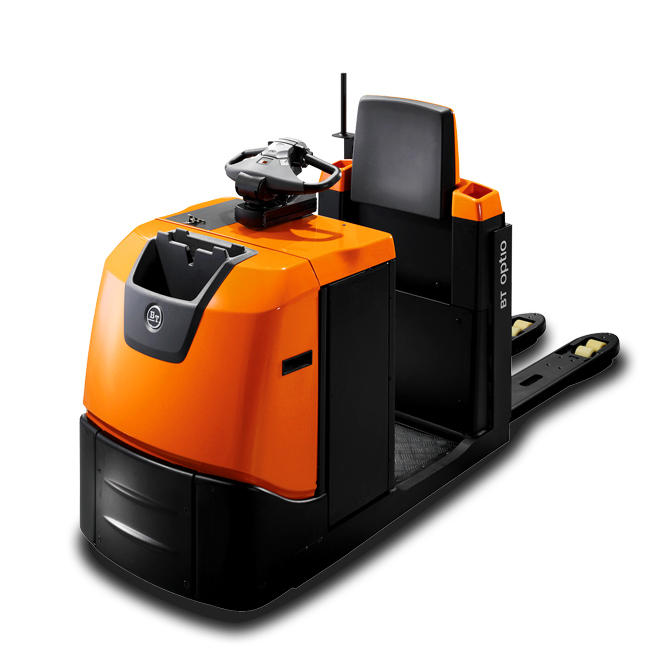 BT Optio is a series of trucks that are best suited to the order picking of frequently shipped articles on the first and second levels of high warehouse storage racks. Its design provides the operator with work efficiency and safety during order picking operations and can maximize work output. With a variety of the models available, the Optio series are widely used in various types of industries. All models come with BT Powerdrive, an integrated drive and control system that provides excellent truck performance and efficiency.
BT Levio (electric pallet truck)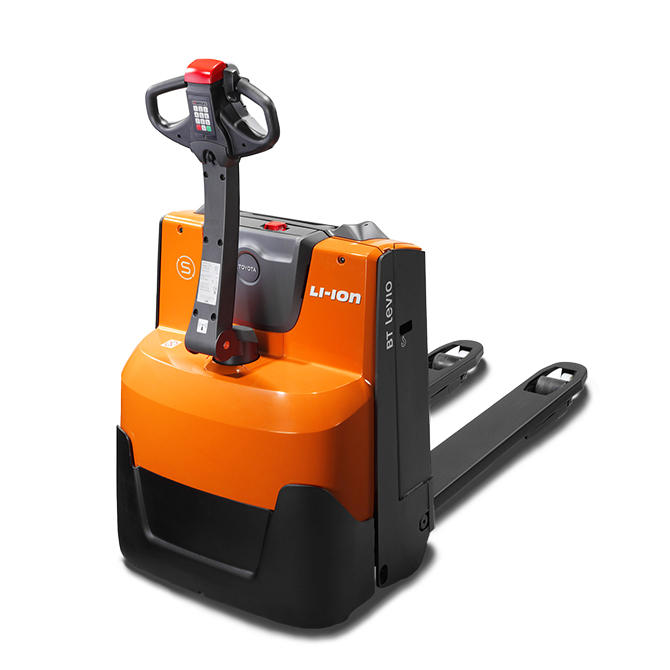 The BT Levio is a series of pedestrian pallet trucks for walkie applications. BT Levio pallet trucks are compact, easy-to-use, and powered by low-maintenance, efficient AC drive motors. The design of the truck, with rounded body contours and a low ground clearance of 35 mm, together with a 5-point wheel configuration, helps to ensure operator comfort and safety. The central placement of the tiller arm and the handle's controls provide excellent ergonomics for the operator for maximum productivity and safety.
BT Pro Lifter (hand pallet truck)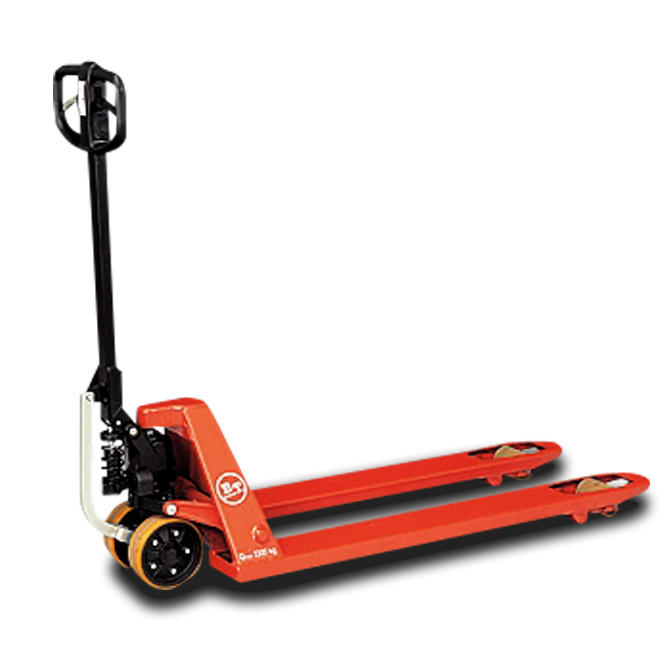 The BT brand offers a large range of hand pallet trucks. The model shown has been equipped with an easy to use power assist function. By simply operating the lever and moving the handle up and down, the tires will begin to turn due to the principle of leverage, and the amount of force necessary to get the load moving at the start will be reduced by 67%. Since the power assist is not done with a motor there is no need to recharge a battery or perform maintenance. Maximum load capacity is 2.3 tons. The power assist makes the transportation of heavy loads easy and hand-powered efficient operation possible.