Toyota Industries Formulates its Seventh Environmental Action Plan
- Challenge of realizing a Zero CO2 Emission-society by 2050 -
[Translation]
Toyota Industries Corporation (President: Akira Onishi; "Toyota Industries") announced today that it has formulated its Seventh Environmental Action Plan, a new five-year action plan that will run from FY2022 to FY2026*1.
To contribute to society that realizes affluent living in harmony with the earth in accordance with the Global Environmental Commitment*2, which is the basic stance of our environmental initiatives, Toyota industries have defined the Environmental Vision 2050 including the challenge of a global zero CO2-emission society and engages in environmental activities.
Toyota Industries formulated its First Environmental Action Plan in 1993 and, since then, it has played an active role in environmental conservation. This fiscal year marks the final year of its Sixth Environmental Action Plan, and the company is confident it will succeed in achieving all the targets set out therein.
The 7th Environmental Action Plan formulated this time sets targets based on the four pillars of the Global Environmental Commitment, namely, 1) Establishing a carbon neutral society; 2) Establishing a recycling-based society; 3) Reducing environmental risk and establishing a society in harmony with nature; and 4) Promoting environmental management.
Toyota Industries Group will work as one to take on the challenge of achieving these targets.
*1 FY2022 to FY2026 refers to the period from April 1, 2021 to March 31, 2026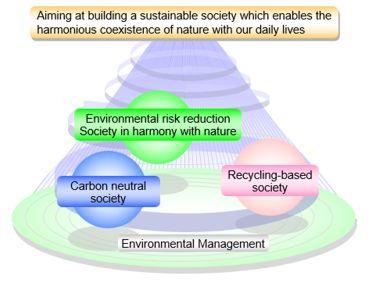 The Environmental Vision 2050

Toyota Industries Group 7th Envirionmental
Action Plan key targets for FY2026

1) Establishing a carbon neutral society
⇒Globally take on challenge of establishing
a zero CO2 emission society
・Global CO2 emissions reduced by 25% compared
with FY2014
・Global renewable electricity ratio 15%
2) Establishing a recycling-based society
⇒Take on challenge of minimising the use of resources
・Toyota Industries waste emission intensity
reduced by 12% compared with FY2014
3) Reducing environmental risk and establishing
a society in harmony with nature
⇒Generate positive influence on biodiversity
・Contribute to the preservation of local biodiversity
by utilizing the characteristics of each site
4) Promoting environmental management
⇒Enhance consolidated environmental management
and promote enlightenment activities
・Prevent adverse environmental impact
by strengthening risk reduction activities
For more information, please refer to the following link
https://www./csr/environment/management/plan_7/index.html