Toyota Industries' Fuel Cell Towing Tractor Concept Wins Red Dot Design Award
- Design Concept award recognizes foresight and promise -
Toyota Industries Corporation (President: Akira Onishi, "Toyota Industries") announces its fuel cell towing tractor*1 concept has won the prestigious global design award "Red Dot Award: Design Concept 2017".
Toyota Industries' award-winning fuel cell towing tractor is a concept model which debuted at the Logis-Tech Tokyo exhibition in 2016. The award recognizes the tractor's design foresight and future promise. The company's designer received the award at a ceremony on October 18 held at the Red Dot Design Museum in Singapore.
*1 Towing tractor: Material handling vehicle capable of pulling heavy loads at manufacturing plants, airports, seaports, and other industrial sites.

Red Dot Design Award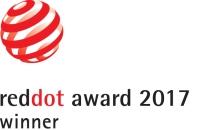 Prize awarded by Germany's Design Zentrum Nordrhein Westfalen, the Red Dot Design Award has been as a leading design competition since 1955. It is considered among the three most prestigious international design awards, alongside Germany's iF Design Award and the IDEA Award in the United States.
The Red Dot Award: Design Concept recognizes products and services which have yet to be commercialized. For the 2017 award, there were 4,724 entries from 54 countries, of which 240 received awards.
Fuel cell towing tractor
The fuel cell towing tractor is a concept model utilizing technologies originally developed for Toyota Industries fuel cell lift trucks. These technologies are supporting the realization of an environmentally friendly hydrogen-based society. Fuel cell vehicles can be refueled rapidly with hydrogen to offer the same uptime as battery-powered equipment and contribute to higher operational efficiency for customers. Surrounding the advanced fuel cell system, the concept model's exterior evokes the tough and tenacious character of an industrial vehicle, complemented by a simple, driver-friendly seat area design which utilizes IoT.