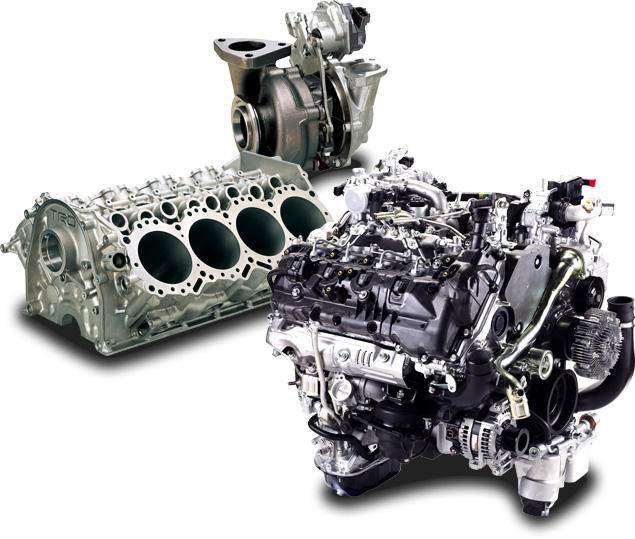 Environmental regulations are increasingly becoming more stringent in both developed and emerging countries. In response, there is a growing demand for diesel engines that feature superior fuel efficiency and emit less CO2. Through the development and production of a state-of-the-art diesel engine, which simultaneously realizes superior power performance and environmental performance, as well as a turbocharger that plays a significant role in the enhancement of these performances, Toyota Industries will actively respond to emissions standards in Europe, Japan, Asia, South America, Oceania and other regions but also to realize superior performance in such properties as fuel efficiency, low speed torque, quiet operation and reliability.
Toyota Industries' Diesel Engines Highly Acclaimed by Customers Worldwide
Toyota Industries' diesel engines, fitted in a variety of TOYOTA vehicles sold around the world, have gained high market recognition for their cleaner emissions, greater fuel efficiency and higher performance. The V-type 8-cylinder VD diesel engine is installed in the Land Cruiser selling particularly well in Australia, Russia and the Middle East.
As a successor model of KD diesel engines, we commenced production of GD diesel engines in June 2015. These engines, which are installed in Toyota Motor corporation's Land Cruiser Prado and other vehicles, are equipped with a turbocharger, for which we participated in the development and started production in-house, and boast significantly higher performance.
Developing Competitive Diesel and Gas/Gasoline Engines in Non-Automotive Fields
Toyota Industries' engines are highly renowned for their excellent environmental performance in non-automotive fields as well. These engines are used for a wide variety of applications, including our lift trucks, Construction Machinery (Excavator) and adopted by GHP*1 manufacturers in Japan and CHP*2 manufacturers worldwide.
We expanded our lineup of industrial engines with the addition of the TOYOTA 1KD industrial diesel engine, which is equipped with a turbocharger developed in-house, and the TOYOTA 1FS gas/gasoline engine in March 2013, followed in December 2013 by the TOYOTA 1ZS also equipped with a turbocharger developed in-house.
*1: Short for gas heat pump; air conditioner driven by a gas engine
*2: Short for combined heat and power; co-generation system