Types of Compressor and Structure: Vane Type (Fixed Displacement)
Structure

This compressor is constructed from cylinders and five vanes built into the rotors, as well as two discharge valves and front and back side plates.
The five vanes rotate in tandem with the rotors while contacting the wall inside the cylinder.
Operation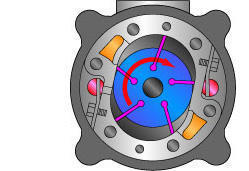 Cylinder volume increases with rotor rotation, causing refrigerant to flow into the cylinder shaft from the suction port.
The refrigerant is sealed within the cylinder by the vanes, and is compressed by the rotation of the rotor. It is then discharged from the discharge port once it reaches outlet pressure.
The compressor is equipped with two suction and discharge ports. Refrigerant is discharged 10 times for each rotation.
You can find more about our vane type compressor.